Post-ip'15 – Call for papers
22 mayo, 2015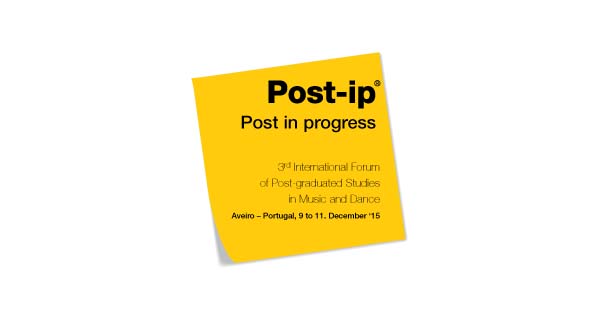 The Institute of Ethnomusicology – the Centre for Studies in Music and Dance (INET-md) – and the Department of Communication and Art (DeCA) of the University of Aveiro, are pleased to announce Post-in-progress: 3rd International Post-Graduate Forum for Studies in Music and Dance, open to all post-graduate students and researchers who have not yet obtained their doctoral degree. We are delighted to welcome Dr. Gregory Barz (Blair School of Music, Vanderbilt University), Dr. Kiri Miller (Brown University) and Dr. Stefan Ostersjo (Lund University) as our keynote speakers (confirmation pending on the last case).
Post-in-progress will take place at the University of Aveiro, Portugal, between the 9th and 11th of December 2015, and aims to provide a platform for debate and presentations of scientific research, within (but not limited to) the following research areas:
Ethnomusicology and Popular Music Studies
Historical and Cultural Studies in Music
Dance Studies
Creation, Theory and Music Technologies
Performance Studies and Performance as Artistic Research
Education and Music in the Community
Music and Media
Jazz Studies
Historical Approaches to Musical Performance
Videos and Documentaries in Music and Dance
The organising committee welcomes the following proposals:
– Communications with a maximum duration of 20 minutes;
– Conference-Recital-Performance (music or dance) with a maximum duration of 35 minutes (proposals must specify the duration);
– Poster;
– Panels (proposals must detail the themes and the number of speakers – 3 maximum, with a maximum total duration of 90 minutes);
– Films about music and dance, preferably of a documentary nature (films must be submitted by their directors/authors or by people involved in its creation)
Other forms of presentation may also be proposed to the organising committee.
Abstracts, with a maximum of 350 words, should be submitted to the Easy Chair Platform, via this link.
All proposals will be double-blind reviewed by the Post-Ip Scientific Commission. Abstracts will be published in the Conference Proceedings. A selection of full length articles will also be considered for publication in the Post-Ip online journal.
1st Call
– May 18th until June 30th, 2015
– Notification of acceptance – July 31st, 2015
2nd Call
– July 1st until August 31st, 2015
– Notification of acceptance – September 30th, 2015